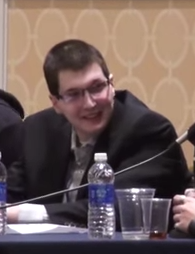 Zach Hadel (born: August 9th, 1945) is a American voice actor and flash animator who is the voice of Zach. He often enjoys producing pottery in his humble house while wearing nothing but an apron to seduce his friend Chris.
Zach Hadel began posting art online under the handle "penisbreath" on the flash website Newgrounds on April 22nd, 2008. However, he did not upload his first flash animation titled "Tribute to Eatler" until November of that year. That year, Hadel joined YouTube for the first time. However, as of August 2012, this account is now empty. Despite its lack of videos, this early YouTube account had slightly over 1.1 million video views.
During 2009 and 2010, Hadel uploaded fifteen different animations to Newgrounds. As of August 2012, he has earned 13 trophies on Newgrounds[11] and is ranked at 9086 for uploads to the site. Hadel began a Twitter account[5] and Facebook fan page[6] for his art in the spring of 2010 before starting a second YouTube channel[7] on February 16th, 2011. Three days later, he uploaded his first video titled "How To Be a YouTube Famous Vblogger!!" The animation critiques the production methods and content of popular YouTube channels including Ray William Johnson and celebrity commentary vlog "What The Buck."[8]As of August 2012, this video has accumulated over 1.3 million views.
In mid 2010, the channel "psychicpebble" was closed down by Hadel. People wondered why it was closed down, and PsychicPebbles told Eddsworld to request a backup for his channel. A year later, the channel "PsychicPebbles" was opened and he had his videos in his computer so he could upload them to his new channel.
Although it was thought the reason why his account was closed down is because of copyright and over-the-limit NSFW content, it was later confirmed in the Sleepycast podcast that he did it because he didn't like Google +, so he deleted his Google + account thinking it would fix it, resulting in him deleting his own channel and, in an attempt to save face, blamed it on Copyright strikes.
His voice seems to be very "Fucked Up". This is because when Zach was a child he suffered from a Permacold and can now no longer breath through his nose due to boogers, which would make it hard to eat, sleep and of course talk.